I've had a lovely day today. Really, lovely. My DD was off mursery yesterday with earache and still felt under the weather when she woke up today so I kept her off again. As it was such a lovely day, we decided to spend it outside. I'm feeling a bit broke today, but realised that as today is the last Friday of the month, we'd take a trip down to our local Sure-Start Centre where they hold a coffee morning for cloth nappy users. She was happy to have lots of dressing up things and a giant beanbag to play with and DS was happy enough playing with some of the kids his age too. I soon discovered that the two ladies there were also keen crafters and they begun showing off their recent crochet projects! I was stunned - they were AMAZING! I would love to be that talented and it made me feel determined to improve on my knitting and crochet.
After we'd finished, the kids and I set off to town where we had lunch and DD was an angel! We were about to go home, but I felt like I needed to do one more thing, so I told DD I wanted to look in a charity shop and asked her which one we should go to. "The one next to McDonald's!" she told me, so we set off towards the British Heart Foundation.
As she was looking at the toys, I spied a charity sack with some writing on it. "4 for £1" it said. I peeked inside the bag to find it was about half full of different sized balls of yarn, different colours, mostly acrylic, but almost every ball had maybe scraps taken from it - some were clearly old and some were brand new. I asked the lady behind the desk how much for the whole bag. She phoned her manager on the intercom and I was shocked at the reply. "£4 for the bag"! Needless to say, I snapped the whole lot up!
And here is the mega stash in all its glory!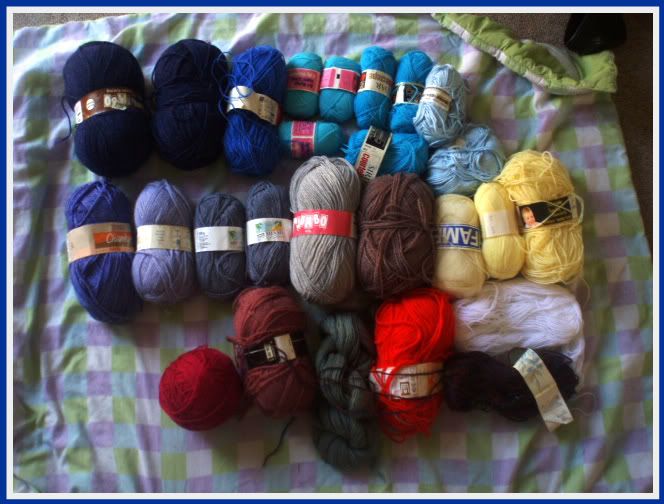 That's TWENTY-SIX separate balls in total. You can NOT say that's not a bargain if you ever saw one! Now, what to make...